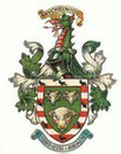 Why become a member?


Today the Brecon County Show is the largest annual event in Brecknockshire and the largest one-day agricultural Show in the county.
For business and for pleasure, there's more than enough to interest everyone: from the latest farm machinery and livestock, to sampling some of Wales finest produce. By becoming a member you can enjoy certain privileges that are not available to the general public.
Information and prices for Membership:


Please click here - Membership Application Form


It would greatly assist the Society if members could agree to pay their subscriptions by Direct Debit, not banker's orders. (Please click on link above)..


Alternatively, you can complete our Secure Online Membership Application below
1. MEMBERSHIP
A Subscription of £18 entitles a member to two badges and reduced livestock entry fees.
2. VICE PRESIDENT
A subscription of £50 will entitle the
Vice-President to two badges, admission for one to the President's Luncheon on Show Day and reduced livestock entry fees.
3. LIFE MEMBERSHIP
A single payment of £250 will give membership for life and the life member would be entitled to two badges and reduced livestock entry fees.
There are two factors upon which the future of the Society depends: increasing membership and the continued support of the exhibitors. We appeal to those of you who are not members, but enjoy the Show to become members of the Society. We also ask each of our present members to try and enrol one member for 2020. This would ensure the future financial prosperity for the Society.
We would like to express our deep appreciation to the trade and stock exhibitors and the private individuals and businesses who support the Society and Show so loyally.
Thank You for your kind support…



Contact Us


Secretary Mr Peter James
Brecknockshire Agricultural Society
HBF Depot
Ffrwdgrech Industrial Estate,
Llanfaes,
Brecon
Powys
LD3 8LA
Telephone: +44 (0) 1874 611 881
Email: breconshow@gmail.com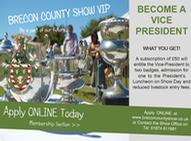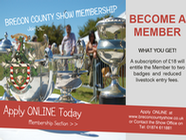 MAKE A DONATION


Registered Charity No. 1107710