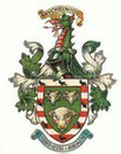 Contact Us


Secretary Mr Peter James
Brecknockshire Agricultural Society
HBF Depot
Ffrwdgrech Industrial Estate,
Llanfaes,
Brecon
Powys
LD3 8LA
Telephone: +44 (0) 1874 611 881
Email: breconshow@gmail.com



MAKE A DONATION


Registered Charity No. 1107710




The founding of the Society is well documented. In March 1755 a group of sixteen men mostly county landowners met at the Golden Lion Hotel in Lion Street, now the site of Bethel Square. The objective of the meeting was to form a hunting club, in the event they decided on a different endeavour. Mr Charles Powell of Castell Madoc, Lower Chapel had been in correspondence with the Gentlemen's Magazine which was followed by discussions with Col Williams of Gwernyfed and Pendry Williams of Penpont. The meeting resolved that it would form a group to "do something to support and encourage Agriculture, Manufacture and promote the general good of the County of Brecon". This having been agreed they met again in April and formally established the Brecknockshire Agricultural Society.
The annual show held on Watton fields is the visible public activity of the Society. The Society was founded in 1755 and has continued without a break until the present day and is in fact the oldest surviving agricultural society in the UK. In 2020 the society celebrated its 267th Anniversary.
The Brecon County Show is held annually on the 1st Saturday in August at The Showground, Watton Villa, Brecon. In 2019 there were 400 horse entries, 100 cattle entries and over 400 sheep entries. The show also hosts a major shearing competition, a poultry show, classes for goats, a novelty and exemption dog show and a dog agility competition and competitions for horticulture and domestic and handicraft. The Show attracts over 10,000 people to the show and with over 200 trade stands and main ring attractions there is plenty of entertainment on offer for them.
The Society is a limited company and charity and it is run entirely by volunteers with the exception of a part time Society Administer. A general committee of no more than 40 members oversees the activities of the Society including the Show. A Chairman and Vice Chairman are elected for a two year term of office and a Show President/Presidents are elected for each year. On show day there are over 200 volunteers helping to the run the event.
In addition to the Show the Society runs other charitable fundraising events such as race nights and the very popular Presidents Evening.
Although the Society is long established, it does not want to be seen as living in the past and is a forward thinking organisation that supports the local economy and agri-food sectors. The Show has kept to its traditional agricultural roots by focusing on livestock, crops, poultry, goats and horses for its mainstay of competitions, but has added various other shows, competitions and attractions to welcome people from all walks of life to the show and provide a great family day out.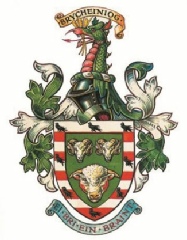 Patron: HRH The Prince of Wales
President: Mr Richard & Mrs Helen Roderick
Past Presidents
Mr Gavin & Mrs Davina Hogg
Mrs Hazel Thomas J.P.
Mr Richard Griffiths
Mr Edward Morgan J.P.
Mr B Davies ARAgS
Dr D Johnson
Mr Roger Williams MP
Mr Glansnant Morgan, ARAgS
Mr Ben Harries, MRCVS
Mr Philip Davies
Mr Calvin Meredith *
Mr David T.M. Lloyd
Mr W N H Legge-Bourke, D.L.*
Sir Martyn Evans Bevan, Bart
W P de Winton Esq
Mrs Jean Gittoes*
M J Jenkins, GSO, CBE, JP*
Vice Ad. Sir Iwan Raikes, KCB, CBE, DSC, DL*
J Matthews Esq*
Major N V S Paravicini
E. Davies Esq
H Price Esq
David Jones-Powell Esq
Sir Roger Jones OBE
Honorary Life Members
David Jones Powell Esq
Mrs Mary Davies
Hon. Chairman
Mr Alan Roberts Esq
Hon. Show Secretary
Mr Peter James Esq
Hon. Show Directors
Mr W. Stephens Esq
Mr Charles de-Winton Esq
Hon. Auditors
Mitchell and Meredith of Brecon
Hon. Treasurer
Mr Clive Thomas Esq
GENERAL COMMITTEE 2022
Chairman: Mr Alan Roberts Esq


Vice-Chairman: Mrs Julia Phillips Esq


Members & Roles:
Mr & Mrs Roderick (President)
Mr Gwyn H Davies Esq (Sheep)
Mr Peter James Esq (Secretary)
Mr Clive Thomas Esq (Treasurer, Ass. Show Director)
Paul Amphlet Esq (H&S Officer)
Brian Davies Esq (Sheep)
Gareth Davies Esq (Sponsorship)
Gareth Davies Esq (Chief Horticulture Steward)
Robert Davies Esq (Chief Poultry Steward)
Miss Josie Evans (Sheep)
Wayne Gittoes Esq (Chief Cattle Steward)
George Herdman Esq (Chief Shearing Steward)
Chris Jones Esq
Geoff Lewis Esq (Chief Horse Steward)
Mike Lewis Esq
Andrew Matthews Esq (Chief Country Pursuits Steward)
Penny Morgan (Chief Domestic & Handicraft Steward)
Lyn Parker Esq (Poultry Steward)
Miss Julia Phillips (Vice-Chair & Chief Sheep Steward)
Gareth Price Esq (Horses)
Roger Price Esq (Horses)
Alan Roberts Esq (Chairman & Media)
Libby Roderick (Ass. Show Director)
Bill Stephens Esq (Show Director)
David Thomas Esq.
Richard Walters Esq (Traffic/Car Park Co-ordinator)
Mr Trevor Walters J.P.
Philip Williams Esq (Horses)
Charles de Winton, Esq (Show Director)
Mick Wright Esq
Miss Katie de Winton (Show Photographer/Steward)
Ms Jane Walters (Sheep Steward)
(A Company Limited by Guarantee)
Company No. 5177105 Charity No. 1107710
Show Office
HBF Depot,
Ffrwdgrech Industrial Estate,
Llanfaes,
Brecon
Powys
LD3 8LA
Show Office Tel No: 01874 611 881
Showground
Watton
Brecon
Powys
LD3 7PL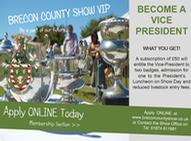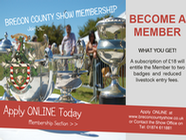 The Brecknockshire showground is a very pleasant green field site situated in the historic town of Brecon and well placed within the heart of the beautiful Brecon Beacons National Park and Usk Valley panorama. Our 36 acres of prime land are ensconced by an Area of Outstanding Natural Beauty which helps create a wonderful atmosphere at the location. The showground is both close to the amenities of Brecon town and the stunning backdrop of the Brecon Beacons. The site is within convenient reach of the M4 corridor the A40 and A470 and the drive to the same is most scenic.
The approximate travel times to Brecon are: From the Severn Bridge - 1 hour
From Cardiff - 45 minutes
From Hereford - 1 hour
From London - 3.5 hours
The site is available to hire in its entirety or in part depending on your requirements.
Our long experienced Show Directors and staff will be on hand to provide assistance in respect of your event management and planning.
We provide very competitive rates for rental.
With utility supplies of water and electric.
Road infrastructures and Boundary demarcations
Large Main ring area
Large Parking areas.
Proximity to River Usk, Brecon and Talybont canal, towpath, theatre and all other town amentities and attractions.
Recent and Previous events include:-
Exmoor Pony Club Show

A Wedding Marquee

The Brecon and Borders Cob Horse Show

The Brecon and Talybont Hunt Show

Circus Mondao

Motor Caravanners Club Day

Rorkes Drift

Corporate Event

Dog Show
All interest in our Showground is welcomed.

Please feel free to discuss your requirements with our Secretary:

Address: HBF Depot, Ffrwdgrech Industrial Estate, Llanfaes, Brecon - LD3 8LA
Tel: 01874 611 881
Email: breconshow@gmail.com

Presidents' Day on Sunday 15th May.
The Presidents' welcome your support to make the day an enjoyable one amongst friends.


Tickets are now available from the Secretary priced £20.00. To aid table planning it would be appreciated if you could organise yourself a table of 10 friends/family.
Peter D. James
Secretary Brecon County Show